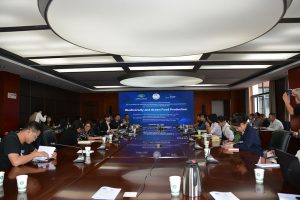 It was organized by Yunnan Provincial Science and Technology Department and Yunnan Academy of Agricultural Sciences (YAAS), co-organized by the Alliance of Bioversity International and CIAT (ABC), Agricultural Environment and Resources Institute of YAAS, and International Agriculture Research Institute of YAAS. The workshop was virtual, with 174 representatives of plant protection experts and researchers from Europe, Africa and Middle East and in East, Southeast and South Asia in attendance.
The talks included:
Harnessing agricultural biodiversity for food system transformation by Dr. Stephan Weise (ABC)
Conservation and use of crop genetic diversity to control pest and disease in support of sustainable agriculture by Prof. Yunyue Wang, Yunnan Agricultural University
Seeds for needs approach: enhancing use of local diversity by Dr. Carlo Fadda of ABC.
Myanmar seed bank and future neglected and underutilized species in agro-forestry by Dr. Min San Thein, Department of Agricultural Research of Agriculture and Irrigation of Myanmar Department of Agricultural Research, Myanmar.
Biodiversity for food and nutrition: the contribution of local, neglected and wild edible species by Dr. Teresa Borelli of ABC
Climate resilient healthy rice in Pakistan: A forum of collaborative research work by Dr. Kazim Ali, Karachi Institute of Biotechnology and Genetic Engineering (KIBGE), University of Karachi, Pakistan
Challenges facing food and biodiversity by Dr. Eid Mehareb, Sugar Crops Research Institute (SCRI), Agricultural Research Center (ARC), Egypt
Potato biodiversity and food for future: sustainable production by Dr. Muhammad Abdul Rehman Rashid of YAAS
Genetic diversity and infection biology of the pathogen for fusarium wilt of banana, by Dr. Chunyu Li, Institute of Fruit Tree Research, Guangdong Academy of Agricultural Sciences, China.
Importance of soil biodiversity for a healthy and a sustainable agriculture by Dr. Didier Lesueur of ABC
A brief summary report of the symposium can be found here.
TR4 Virtual Workshop – Oct/Nov 2020
A four-part virtual workshop series on "Safeguarding the Banana Industry from Fusarium Wilt: Research Updates and Opportunities in Asia Pacific" was held in October and November 2020 via Zoom, organized by the International Tropical Fruits Network (TFNet), the Australian Centre for International Agricultural Research (ACIAR), Guangdong Academy of Agricultural Sciences (GDAAS), Chinese Academy of Tropical Agricultural Sciences (CATAS), and the Alliance of Bioversity International and International Center for Tropical Agriculture (ABC). There were on average 70 attendees per session, including researchers, scientists, growers, and the private sector from 16 countries: Australia, China, Colombia, Dominican Republic, Ecuador, India, Indonesia, Laos, Malaysia, Myanmar, Netherlands, Philippines, South Africa, Spain, USA, & Vietnam. Participants from international organizations such as the CABI, Food and Agriculture Organization of the United Nations, the World Banana Forum, ProMusa, and International Institute of Tropical Agriculture also attended.
The workshop series comprised the following themes:
20 October – Country reports on background and updates on Foc TR4 prevalence, containment measures and research initiatives
27 October 2020 – Biodiversity, evolution and interaction mechanism between pathogen and host
3 November 2020 – Breeding initiatives for resistance against Foc TR4
10 November 2020 – Integrated control measures and sustainable field management practices
The full workshop report can be found here.The workshop presentations can be viewed here https://youtube.com/playlist?list=PLKxiDl17HlWtwZ1uWrhvEGs9qiC_gqSGZ
By Sijun Zheng