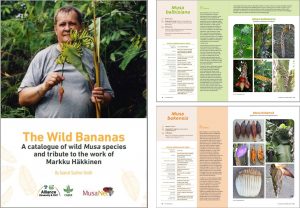 The Alliance of Bioversity and CIAT, under the framework of the global banana research network MusaNet, has published a catalogue of wild Musa (banana) species, which is also a tribute to the late banana taxonomist Markku Häkkinen. The 233 page catalogue is authored by Gabriel Sachter-Smith, banana taxonomist and farmer, who worked closely with Markku until his passing in 2015. Gabriel has realised his and Markku's shared goal – to publish this illustrated and informative global monograph of wild banana species, many of which were first described by Markku.
The catalogue is open access and available here:
The Wild Bananas (low resolution – 23 MB)
The Wild Bananas (high resolution – 53 MB)
To view with online display click here.